Happy Sunday Everyone,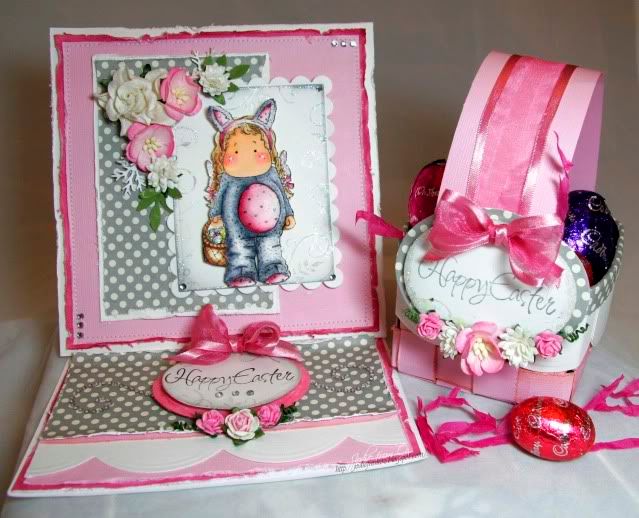 This week we have a colour challenge, Grey & Pink.
Easter Basket/Container
here is the Tutorial
I really enjoyed making this wonderful project, thanks Lena.
& thanks to Kellie, I have entered this in the Challenge at
Cute Card Thursday
- Spots & Dots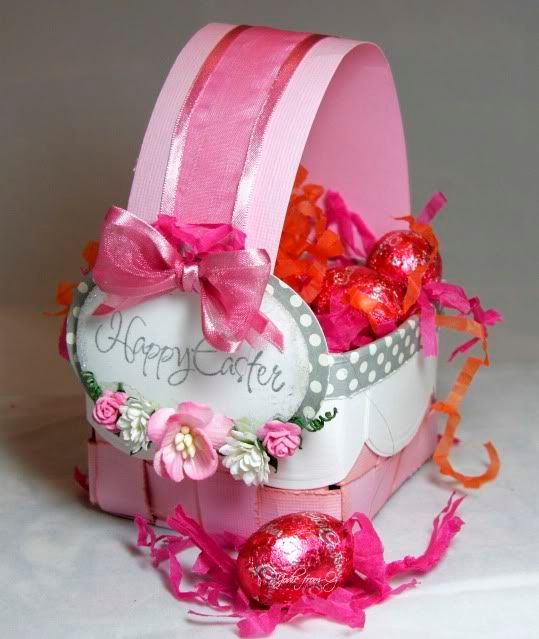 Kellie
has donated the fabulous prize this week, & it happens to be my favourite stamp
Oops from the Yummy for your Tummy Collection, beautiful flowers, lace & some fabulous Magnolia paper.
I am so sorry the photo is such poor quality, I am having a few problems with my camera and had to borrow my neighbours. I am hoping to take a few more photos with some close ups over the next few days.
I sent my DH off to buy some Easter goodies for my photo shoot, he returned with bag fulls, not knowing what I wanted & of course I had to taste test them all to see what would be best for the photo LOL.
I bought this sweet image a while ago and have been itching to ink her up, called Bunny Tilda, the sentiment is from Magnolia also. I stamped the image twice to give it some extra dimension around her tummy (probably too much chocolate LOL), coloured with copics. I added some machine stitching. Patterned Paper, gray spot - October Afternoon, border punch - EK success, Star Dust Stickles, Diamonte swirls - Prima, CS, ribbon & flowers from stash.
Hope you will stop by & see what the other
Design Team Members
have created for you, they are all amazing! Thanks for joining this wonderful challenge, I can't wait to see what you come up with & hoping you will join us next week, for our new weekly challenge.
Remember the Design Team have been split into 2 groups -
this week it is
Group 1
Jodie (me)
Have a wonderful week & remember you only have a week to enter, happy crafting.